Photo Gallery
Moffatt's Mazda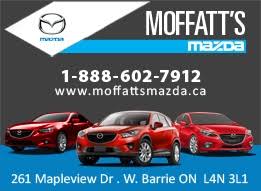 Barrie Business Details
🏷️
Wheel Alignment Special - $99.95 +hst
Seasonal Tire Change over - $39.95 +hst
Seasonal Tire Storage - $59.95 +hst
Mount & Balance Winter Tires - $89.99 +hst
Tire Swaps and Alignment - $114.95 +hst
🕐
Saturday 9AM–5PM
Sunday Closed
Monday 9AM–8PM
Tuesday 9AM–8PM
Wednesday 9AM–8PM
Thursday 9AM–8PM
Friday 9AM–5PM
About this Barrie Area Business
Moffatt's Mazda is the Barrie area Mazda dealership which is located on Mapleview Drive in Barrie's south side. Moffatt's offers a wide variety of automotive products, automotive repairs and services. They carry all the top lines of Mazda vehicles including the Mazda3, Mazda6, Mazda5, CX-9, MX-5, CX-3 and CX-5. They also carry a wide range of used cars to help please those looking to buy used.
Moffatt's Mazda is the place to go whether you are looking for a new or used car. They also service areas including Newmarket, Orillia, Orangeville and the entire South Central Ontario area.
Here is what their customers are saying:
Great service staff. I recently got my snow tires put on and had a oil change done. Kevin called and let me know that I had some warranty work that needed to be done. Kevin made sure I got picked up from work on time. Keep up the great work
Purchased my 3 Sport GT through Dan back in 2016. Great experience! He just handed me the key many times to go on a test drive on my own and I was instantly sold. A week or so later I signed the paper and my car arrived just as I came back from Vancouver.
We purchased our 2017 CX-5 GT from Matt Weeks. Our experience was topnotch and will highly recommend to family and friend. Matt kept in contact with us from start to finish and gave us updates as he gotten them. Even answering emails on his days off! Keep up the great work!

Listing Owner
Member Since: December 27, 2016
BarrieAds has been helping businesses in the Barrie since 2016. Register FREE and have your ads listed in minutes!.
Contact Owner
Complete the form below to send a message to this owner.
Ratings & Reviews
A lil pricey for parts but the service is really good. Love the aquarium in the waiting room.