Putt Mini Golf Barrie – Closed Down
Photo Gallery
Putt Mini Golf Barrie - Closed Down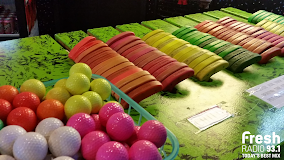 Barrie Business Details
🕐
Monday 11a.m.–10p.m.
Tuesday 11a.m.–10p.m.
Wednesday 11a.m.–10p.m.
Thursday 11a.m.–10p.m.
Friday 11a.m.–11p.m.
Saturday 11a.m.–11p.m.
Sunday 11a.m.–10p.m.
About this Barrie Area Business
This business is no longer in business. Are you the owner and re-opened this business? Simply contact our support.
Looking for something exciting to do in Barrie? Check out the Putt Mini Golf located at Commerce Park Drive.
Putt is awesome for groups of adults and kids. Theyoffer fun-filled and affordable packages for all ages including mini-golf, arcade, pizza and loot bags. They also do:

Listing Owner
Member Since: December 27, 2016
BarrieAds has been helping businesses in the Barrie since 2016. Register FREE and have your ads listed in minutes!.
Contact Owner
Complete the form below to send a message to this owner.