Donaleigh's Irish Public House Barrie
Photo Gallery
Donaleigh's Irish Public House Barrie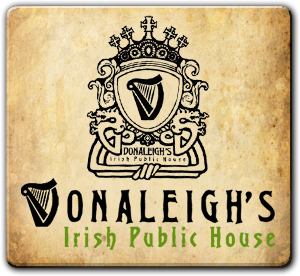 Barrie Business Details
🕐
Monday 11:00am - 9:30pm
Tuesday 11:00am - 9:30pm
Wednesday 11:00am - 9:30pm
Thursday 11:00am - 9:30pm
Friday 11:00am - 10:30pm
Saturday 11:00am - 10:30pm
Sunday 11:00am - 9:30pm
About this Barrie Area Business
Donaleigh's is a restaurant in downtown Barrie that prides itself in serving authentic Irish ales, lagers, stouts and food. The accommodations include a stool at the bar, table in the library or a cozy booth. Donaleigh's Irish Public House carries on the fine Irish tradition of great food, quality ales and genuine hospitality. Stop by Donaleigh's today for an awesome evening!

Listing Owner
Member Since: December 27, 2016
BarrieAds has been helping businesses in the Barrie since 2016. Register FREE and have your ads listed in minutes!.
Contact Owner
Complete the form below to send a message to this owner.