Photo Gallery
Big Als Aquarium Barrie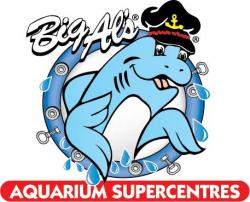 Barrie Business Details
🏷️
See Big Al's regularly updated Barrie Special page: http://bigals.ca/specials/barrie-specials
🕐
Saturday 10AM–6PM
Sunday 10AM–6PM
Monday 10AM–9PM
Tuesday 10AM–9PM
Wednesday 10AM–9PM
Thursday 10AM–9PM
Friday 10AM–9PM
About this Barrie Area Business
Big Al's have been in the aquarium business since 1975. They provide a large selection of products such as live fish, live corals, aquariums, supplies, aquarium furniture, goldfish, marine fish and much more. You can even find a large shark display amongst other aquarium/plant/coral displays. Big Al's is perfect for hobbyists but also to the more extreme aquatic hobbyists.

Listing Owner
Member Since: December 27, 2016
BarrieAds has been helping businesses in the Barrie since 2016. Register FREE and have your ads listed in minutes!.
Contact Owner
Complete the form below to send a message to this owner.