Jey's Burritos Dunlop Street
Photo Gallery
Jey's Burritos Dunlop Street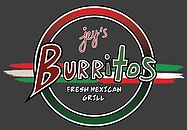 Barrie Business Details
🕐
Sunday Closed
Monday 11a.m.-8p.m.
Tuesday 11a.m.–8p.m.
Wednesday 11a.m.–8p.m.
Thursday 11a.m.–8p.m.
Friday 11a.m.–8p.m.
Saturday 11:30a.m.–8p.m.
About this Barrie Area Business
Jey's Burritos established itself in Barrie on July 24, 2017. Fresh Local Mexican Food at Jey's Burritos in Barrie. Tacos, Quesadillas and Burritos made by hand from scratch. Get suprisingly good, good quality and well prices burritos. They even have GREAT Nachos!

Listing Owner
Member Since: December 27, 2016
BarrieAds has been helping businesses in the Barrie since 2016. Register FREE and have your ads listed in minutes!.
Contact Owner
Complete the form below to send a message to this owner.