M&M Food Market Barrie Bayfield Street
Business Details
🕐
Monday 9a.m.–8p.m.
Tuesday 9a.m.–8p.m.
Wednesday 9a.m.–8p.m.
Thursday 9a.m.–8p.m.
Friday 9a.m.–8p.m.
Saturday 9a.m.–7p.m.
Sunday 9a.m.–6p.m.
About this Barrie Area Business
M&M Food Market has just celebrated 40 years of helping Canadians with delicious meal ideas, great customer service and Canada wide locations including Barrie.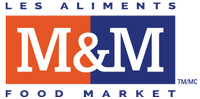 Verified user
Share this Barrie Business ❥
Listing by
Member Since: December 27, 2016
BarrieAds has been helping businesses in the Barrie/Simcoe region since 2016. Let us help you gain more exposure to your business. Contact us today and find out how we can help.
Contact Owner
Complete the form below to send a message to this owner.
Account Info
---
December 31, 1969 8:00 pm
October 24, 2021 4:39 am
---
Membership