That time of year! Plants inside? Microgreens? Affordable LED grow light stands. 2 year Warranty!
Photo Gallery




That time of year! Plants inside? Microgreens? Affordable LED grow light stands. 2 year Warranty!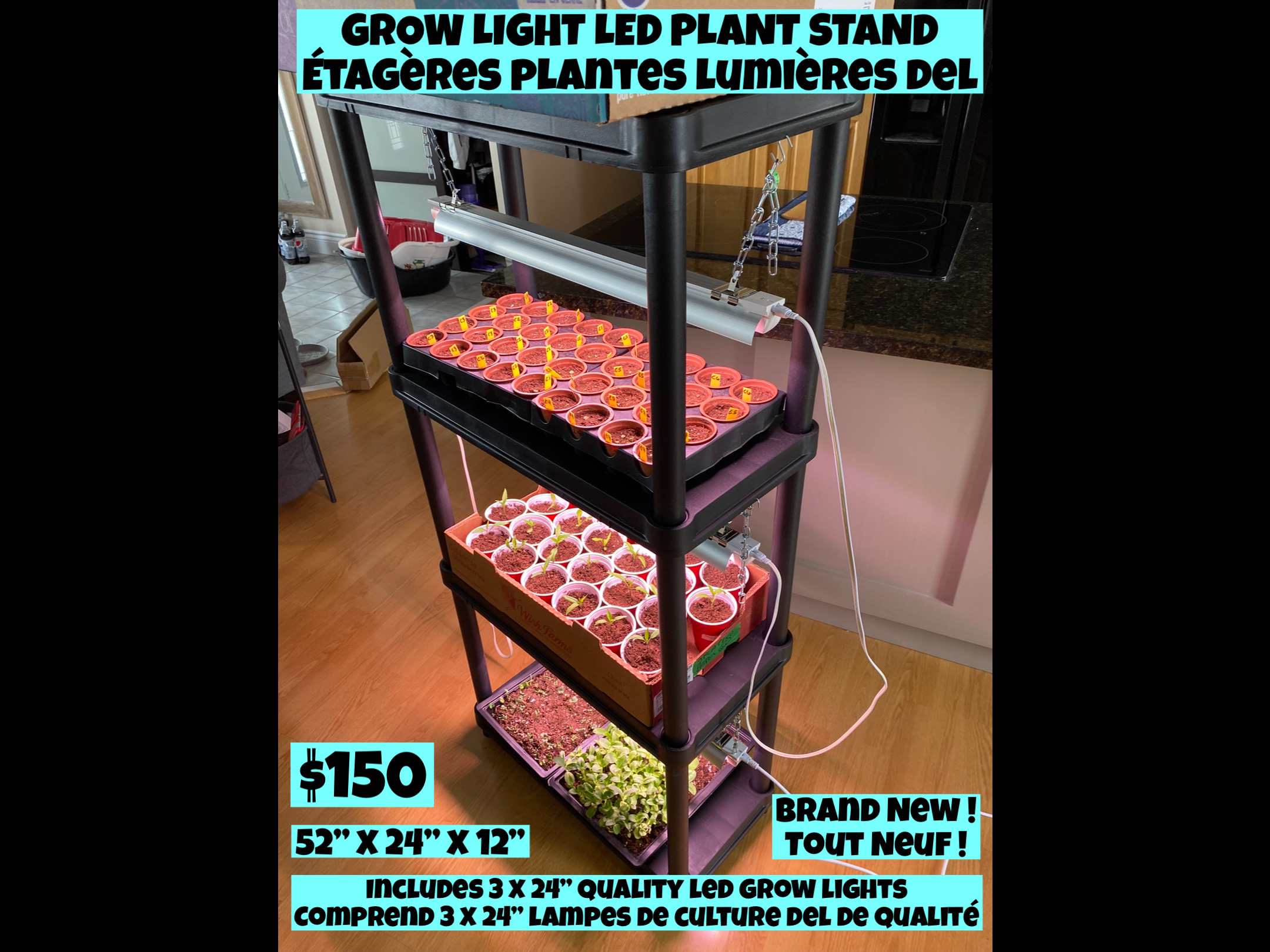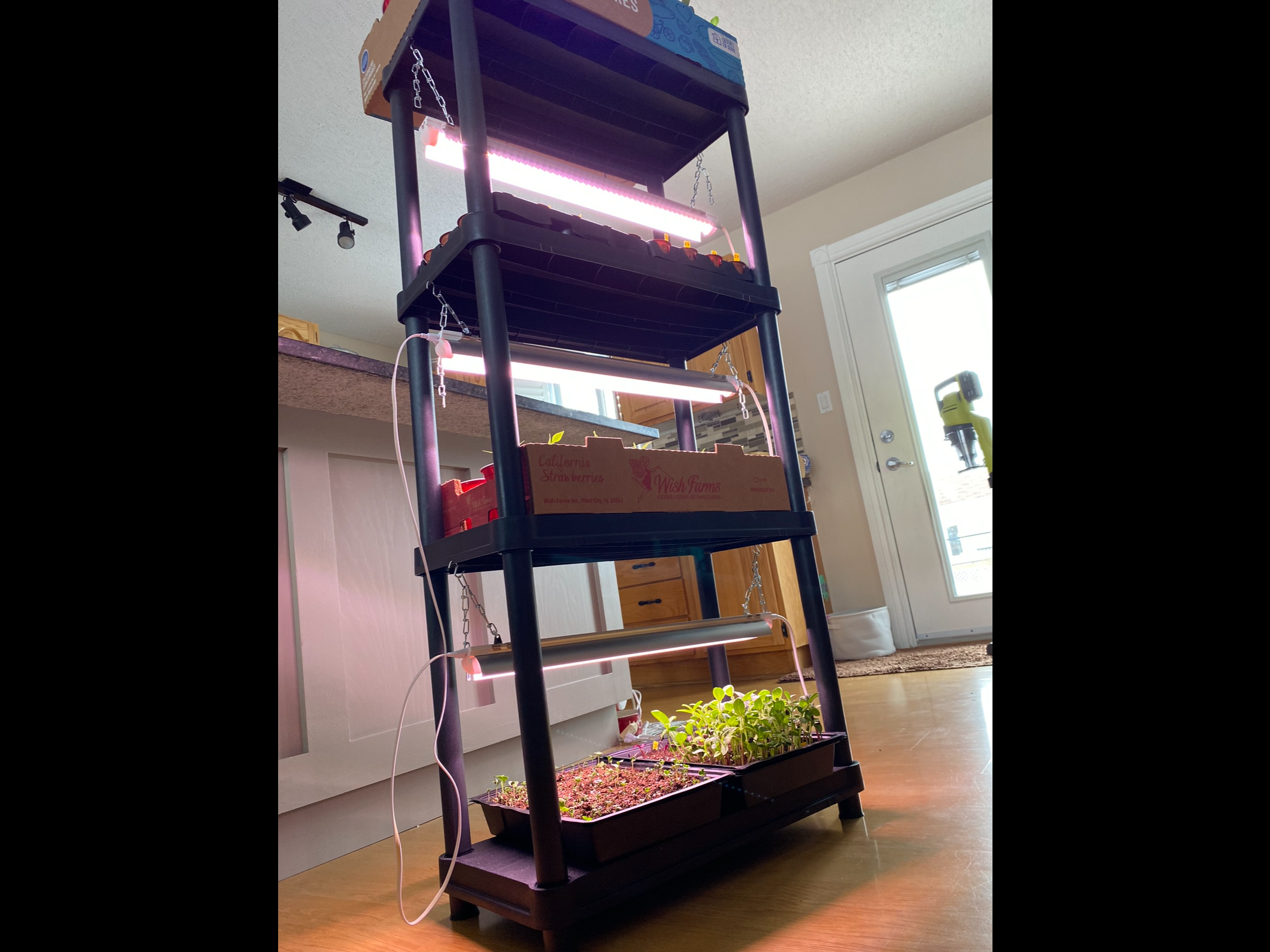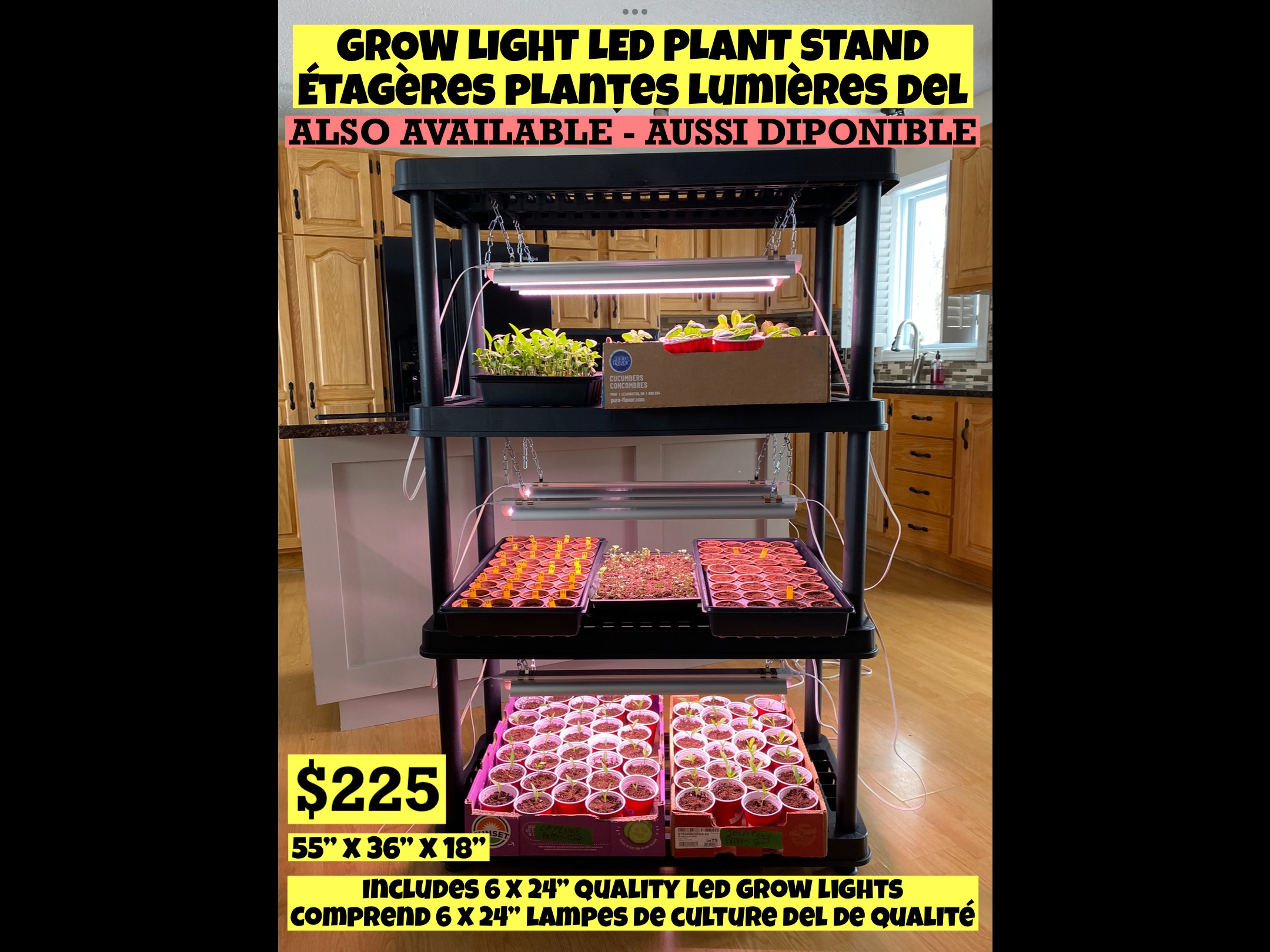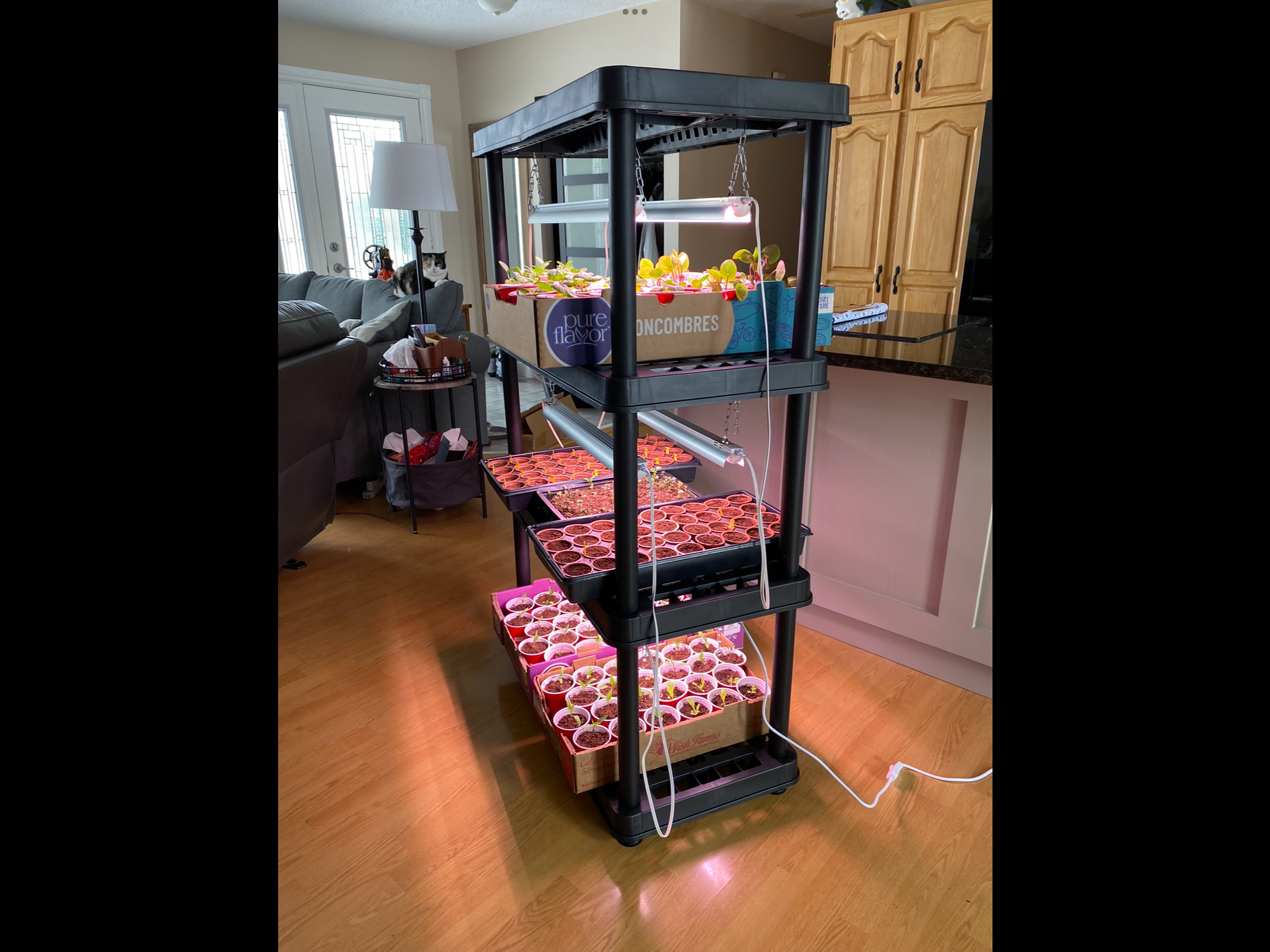 Barrie Business Details
| | |
| --- | --- |
| 🛣️ | Ferndale Drive |
| 🗺️ | Barrie |
| 🛣️ | Ontario |
| 📮 | L4n |
About this Barrie Area Business
Stand LED Grow Light Full Spectrum Plant NEW!
Lumières DEL Étagères Plantes NEUF! B
NOW AVAILABLE IN BARRIE AREA!!!!
Over 425 sold in the Ottawa AND Barrie area in the past 3 years!
La description en français suit celle en anglais
SO YOU WANT LED PLANT GROW LIGHTS BUT AREN'T SURE HOW?
AND YOU DONT WANT TO SPEND $500 to $1000?
Well this is Ideal for the BEGINNER or EXPERIENCED Gardener!
These don't need any modification or knowledge to use.
Just plug in and place plants under the lights. That easy.
Very good results for germination, seedlings and up to budding
and flowering. Also I am always available for help.
2 YEAR WARRANTY INCLUDED!!
NOW CSA CERTIFIED!!!
SHELF: BRAND NEW – 4 shelves in total.
It's 52" high, 24" wide and 12" deep.
Made from Resin.
Can be taken apart for storage in off season.
LIGHTS : 3 BRAND NEW 2 foot long LED Grow Lights.
LIGHTS ARE NOW CSA CERTIFIED!!
Each light has 96 individual Full Spectrum LEDs.
Great quality lights SPECIFICALLY MADE for plant growth.
Light height fully adjustable using included chains and hooks.
Rated for 50,000 hours of use!!
Lights are bright white and not purple or pinkish,
so no strain on the eyes that some people report.
Very low on electricity demand since they are LED – 24 Watts.
Entire system uses less than a regular 75 watt light bulb.
$150    (LOWER PRICE THAN LAST THREE YEARS)
Comes in kit form completely ready to assemble.
Very easy assembly.  Plug and play. All is included.
Pick up would be from Monday to Thursday from 9am to 5pm
in the Cedar Pointe Area of Barrie.
Cash upon pick up is preferred however Etransfer is possible.
Any questions please ask. Thanks
Note: The last few pictures in the group is another grow light
stand I also have available in a separate ad. Message me if interested.
****************************************************
VOUS VOULEZ DES LAMPES DEL SPECTRES COMPLETS POUR PLANTES?
MAIS VOUS NE SAVEZ PAS COMMENT?
ET VOUS VOULEZ PAS DÉPENSER de $500 à $1000?
Eh bien, ce système est idéal pour le jardinier DÉBUTANT ou expérimenté!
Aucune modification ou connaissance nécessaire pour être utilisées.
Très simple, il suffit de brancher et de placer les plantes en dessous.
Très bons résultats pour la germination, les semis et jusqu'au
bourgeonnement et la floraison. Touts est inclus dans le prix.
GARANTIE  DE 2 ANNÉES!
MAINTENANT CERTIFIÉ  SELON LES NORMES CSA
L´ÉTAGÈRE : TOUT NEUF – 4 tablettes en total.
52″ de haut, 24″ de large et 12″ de profondeur.
Fabriqué de resin..
LUMIÈRES : 3 lampes DEL TOUT NEUF 2 pieds de long chaque.
LES LUMIÈRES SONT MAINTENANT CERTIFIÉES CSA !!
Chaque lampe a 96 DELs individuel à spectre complet.
Lumières de grande qualité SPÉCIALEMENT CONÇUES pour des plantes.
Hauteur des lumières ajustable avec chaînes et crochets inclus.
Évalué pour 50 000 heures d'utilisation !!
Les lumières sont d'un blanc éclatant et non violet ou rosâtre,
donc pas de fatigue oculaire que certaines personnes rapportent.
Très faible demande de puissance car ils sont DEL – 24 Watts.
L'ensemble du système utilise moins d'une ampoule de 75 watts.
$150   (PRIX INFÉRIEUR QUE LES TROIS DERNIÈRES ANNÉES)
Livré sous forme de kit entièrement prêt à monter.
Assemblage très facile. Brancher et utiliser. Tout est inclus.
Le ramassage se ferait du lundi au jeudi de 9h à 17h
dans le secteur Cedar Pointe de Barrie.
Le paiement en cash est préférable, mais le transfert électronique est possible.
Toutes les questions s'il vous plaît demander. Merci
Remarque : les dernières photos du groupe sont une autre lumière de croissance support que j'ai également disponible dans une annonce séparée.
Envoyez-moi un message si vous êtes intéressé.
Grow Light Plant Stand LED NEW! – Lumières DEL Étagères Plantes
L4N9V4 Listing Owner
Member Since: October 8, 2023
Contact Owner
Complete the form below to send a message to this owner.