Whether you are looking to fish yourself or take the little ones fishing, there are lots of fishing opportunities for people looking to shore fish in and around Barrie. Below you will find some great little spots where you will find fish and are within a short distance.
Lake Simcoe
Lake Simcoe has many shore fishing opportunities and this can be seen down at the waterfront as it's quite a popular spot come summer. From what I understand, many seek out large Pike at night along the rocks near the old Hooters. This is a deeper area, so be sure to use weedless hooks as each summer day passes the growth only gets worse. I have also seen lots of walleye in this area swimming near the shores near dusk.
There is also a break-wall with a dirt trail behind the spirit catcher which is quite popular for people fishing for perch and whitefish. The Tiffen Boat Launch area is another great spot to catch Bass from the shore. Just be sure to keep your bait off the bottom as there are lots of Gobies (invasive species).
Nottawasaga River
The Nottawasaga river is an absolutely stunning river in the summer months and is still fished from shore throughout the winter months. However, if your fishing in the morning or around dusk be prepared to bring some mosquito repellent because they are BIG and BAD mamajamas.
This is my favourite river to fish as the fish can be quite big regardless of what species your chasing. The most common fish people seek here are Salmon, Steelhead, Rainbow Trout (more so in the tributaries) and Carp. You can also find Pike, Bass, Catfish and Sunfish. You may even catch the occasional Mudpuppy Salamander or Lamprey (gross).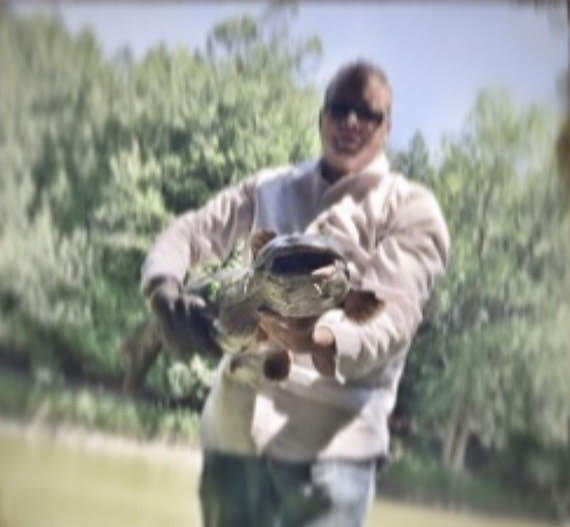 I have caught some pretty big Carp and Catfish in this river, one blue channel catfish that was 4lbs short of the Ontario record , (caught using a piece of frozen shrimp). If your fishing on the bottom be prepared to hook into massive turtles.
You should also consider using some braided line with a Fluro-Carbon leader when the water is clear but the water can be pretty murky at times if there is any significant rainfall, it can be days before it clears up!
The river also contains walleye in stretches with fallen trees. A good place to start chasing the walleye would be in the Elmvale area 🙂 I have also heard people say they feel there could be Musky in the river. The river holds many spawning beds for sturgeon as far Alliston. Sturgeon should not be targeted as they are an endangered species and you can get fined as they have stiff punishments. In 1982, a Toronto man caught a 168lb Sturgeon at the mouth of the Nottawasaga river.
Some common spots to start with; The Don Ross fishing park on County Road 90, Essa Centennial park (off County Road 56) and the Edenvale Conservation area. The first two require an Essa Fishing pass which can be purchased online or at the lumber store in Angus. I believe it is $40 yearly or $10 a day, this enters you into their annual Salmon Derby and also allows you to fish all the Essa Fish parks.
Another good way to find local spots is look for a bunch of cars parked on the side of the road (near bridges usually) on any side-road that passses through the Notty. You will likely see upwards of 10-15 cars when a Salmon run is taking place.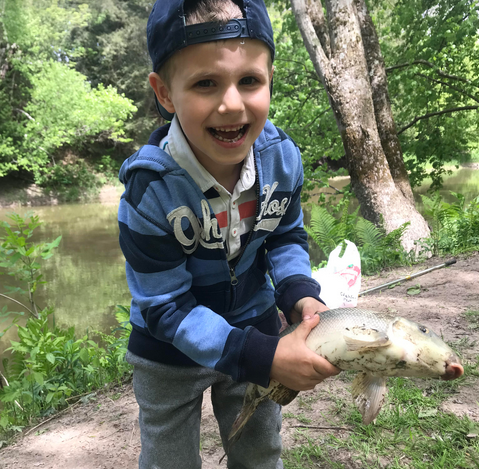 Pine River
The Pine River is a tributary of the Nottawasage river and is a great place to fish but finding a good spot to fish it can be tricky as there is lots of stretches with fallen trees and brush.
Boyne River
Another tributary of the Nottawaga river, the Boyne river holds lots of fish and much like the Pine River, can be tricky to fish.
Port Severn
In Port Severn, there is a dam (referred to as Gloucester pool/Trent-Severn Waterway, Lock 45 – Port Severn) which has many fishing spots with a nice pool that holds lots of Bass, Pike and Gar Pike. Gar Pike are an absolute blast to catch but you will have more success during the night with a headlight. Be prepared to see some big bugs and water snakes. This is a stunning area to fish!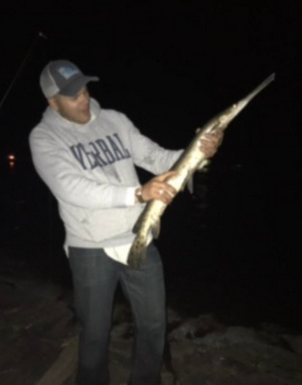 Holland River
The Holland river holds lots of big fish but… hold off on filleting any fish as the river has lots of run-off from farms in the area. You can access many spots rite on Canal Road which starts in downtown Bradford and follows the river rite to Hwy 400. Underneath the 400 Highway and the bridge area in Bradford (where Canal Rd. starts) are the two most common spots, but you can pretty much just pick a spot anywhere in that stretch and fish it.
It's best to find a spot away from people or you could quickly find yourself surrounded by 50+ plus fishermen a few feet apart. No really. The majority of people fishing this river are fishing for Crappie and Carp.
Another spot is at the end of Line 10 off of Yonge St. This spot you can walk out to the deeper section of the Holland river and catch some big fish. Be prepared to wear some high boots as it can be a muddy walk to get to the point. This spot contains lots of Bowfin which are much like a Snakehead fish and can be pretty big and give quite the fight. You can also find lots of Bass, Catfish and Pike. However, in recent years this spot has become quite the dump with garbage and gun shells all over.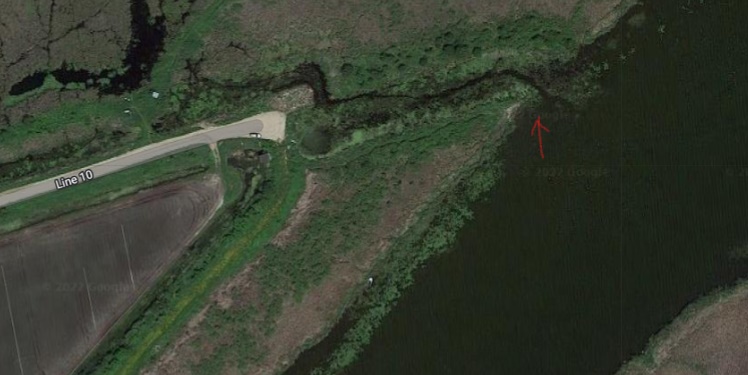 Tiffen Conservation Area
This conservation area can be accessed from the 8th line off of County Road 90. It's a short distance from Barrie and they have some really cool ponds which are great for kids as there are a ton of sunfish which are super easy to catch. You will have to pay a parking fee here.
The Narrows
This is a pretty cool little spot if you don't mind fishing off a pier with a great view. I do NOT recommend you bring small children here as it can be quite dangerous with a very strong current. The view is absolutely stunning as you can see the big fish swimming through the channel connecting Lake Couchaching to Lake Simcoe.
You can access this spot by parking in the mini mall with the Subway on Atherley Rd. There is a walking trail behind this mall that takes you directly to the pier. Be cautious of catching snapping turtles as it's a bit more tricky to release them when your high up.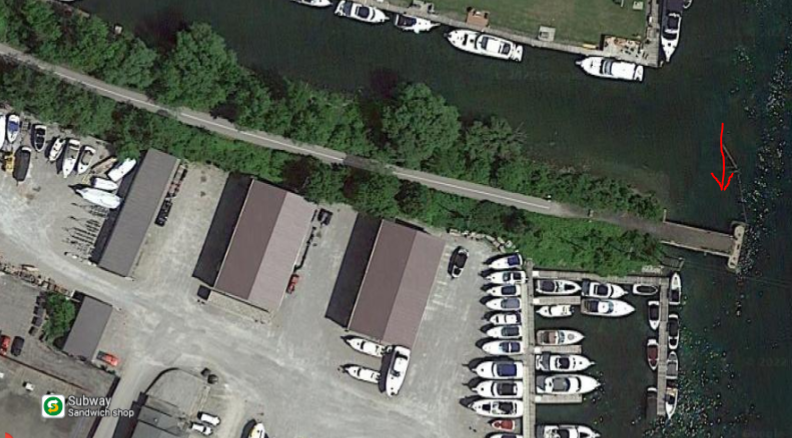 Little Lake
If you live on the North side of Barrie your literally a few minutes away from renting a gas powered boat or pontoon for the hour or the entire day from Lawrence Park rentals. This lake doesn't hold lots of big fish as it's so small and over-fished but this is a great place to bring the little ones out for a fun adventure with lots of little fish. The best spot to fish is a U shaped pool in the middle of the lake, you can see it while your on the lake by just watching the surface and the currents.
(Updating of this post still in progress)